After finishing producing an object, we must measure the object to find out whether it is the expected size or not. In machining techniques, the most widely used measuring instruments are measuring length, diameter, clumsiness, flatness, and thread spacing. These tools include :
1. Caliper
Calipers are used to calculate the length, thickness and diameter of an object. There are several types of calipers, namely vernier calipers, dial calipers, and digital calipers. The vernier caliper accuracy level is 0.05 mm, while the dial caliper accuracy level is 0.02 mm, and the digital caliper is 0.01 mm.
How to use this tool is quite easy, namely by sandwiching the object you want to measure between the caliper jaws, then the size will be printed. In addition, the caliper can also be used to measure the depth of a product, by placing the end of the depth rod on the base of the object being measured, and the end of the slider on the other side, then reading the size.
2. Micrometer Screw
Micrometer screw or micrometer screw is a measuring instrument that has almost the same function as a caliper, the difference is its higher level of accuracy.
The level of accuracy of the screw micrometer can reach 0.001 mm while the caliper is 0.01 mm. Screw micrometers are often used for measuring thickness and diameter of materials that require a high degree of precision.
3. Ring Gauge
Ring gauge is a tool used to measure the outer diameter of a cylinder whether it meets the standards and meets the tolerances allowed for mass production of the product.
4. Plug Gauge
The plug gauge is a tool that functions to check the dimensions of the hole whether it is in accordance with the standard or not, if it is appropriate then production can be continued.
5. Screw Pitch Gauge
Screw pitch gauge is a measuring instrument used to measure the distance of a thread or a threaded bolt or part. This set of tools consists of several blades of different shapes. The blade size is listed on each bar.
6. Feeler Gauge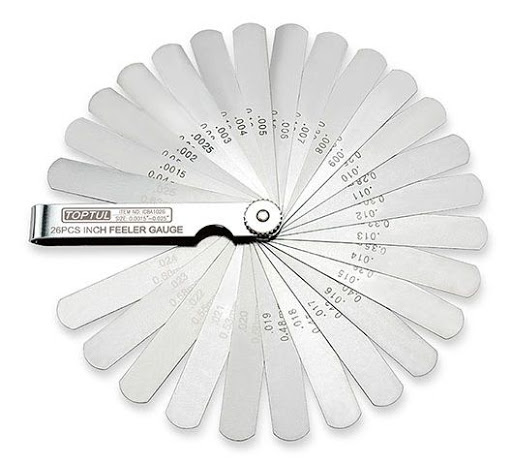 A feeler gauge is a measuring tool used to measure gaps that are difficult to reach by other measuring instruments, such as valve gaps, bearing gaps, side gaps of piston rings, and so on. This tool consists of several thin steel sheets having a size precision of up to 0.01 mm.
7. Dial Indicator
Dial indicator is a tool that functions as a measure of the flatness of an object's surface, the accuracy can reach 0.01-0.001 mm. In its application, it is often used in the automotive world, manufacturing, tooling and machining workshops.
8. Bevel Protactor
Bevel protactor is a measuring instrument used in measuring the angle between two surfaces of a measuring object with an accuracy level smaller than one degree, namely with an accuracy of up to 5 minutes.
Solo Abadi, The Best Precision Part Maker Company!
In the industrial world, many parts need to be made precise, and need to be measured with high-precision measuring instruments. Solo Abadi is a company in Solo which is engaged in manufacturing. Solo Abadi provides services for making various kinds of products, especially precision parts.
There are several CNC machines available in Solo Abadi, including a CNC lathe (lathe), a CNC milling machine (milling), and a CNC laser cutter machine. These machines are used to make products ordered by customers. With this machine, it is ensured that product processing can be fast and of good quality.
Interested in Making Precision Part Products in Solo Abadi?
If you are interested in making products in Solo Abadi, please contact our Marketing Team via Whatsapp at 62851 – 0088 – 8111.
You can also visit our company which is located at Jl. Slamet Raya, Tawangsari, RT.01 RW.34, Mojosongo, Jebres, Surakarta, Central Java.
We'd love to welcome you.